It shouldn't come as a huge surprise to learn that Ubisoft is launching a battle royale to call its own. You only have to take a cursory look at the publisher's history to discover that it's as happy to follow industry trends as it is to set them, after all.
What's more surprising is Ubisoft Montreal's refusal to set its battle royale within an existing IP (Far Cry seems like the obvious choice), and instead chart its own path with a brand new universe focused singularly on the genre's unique brand of competitive, last-team-standing tournaments.
"I think we wanted to do something that was accessible," explains Hyper Scape creative director Graeme Jennings of the decision for the first person shooter to stand outside from any of Ubisoft's other major licenses. "We didn't want to build a battle royale that was super violent, and we also wanted to have a fairly large canvas for creativity. So setting that in a new IP, based around this futuristic virtual world, allowed us to do things that fit contextually within the universe. There's a lot more creative freedom because of the premise."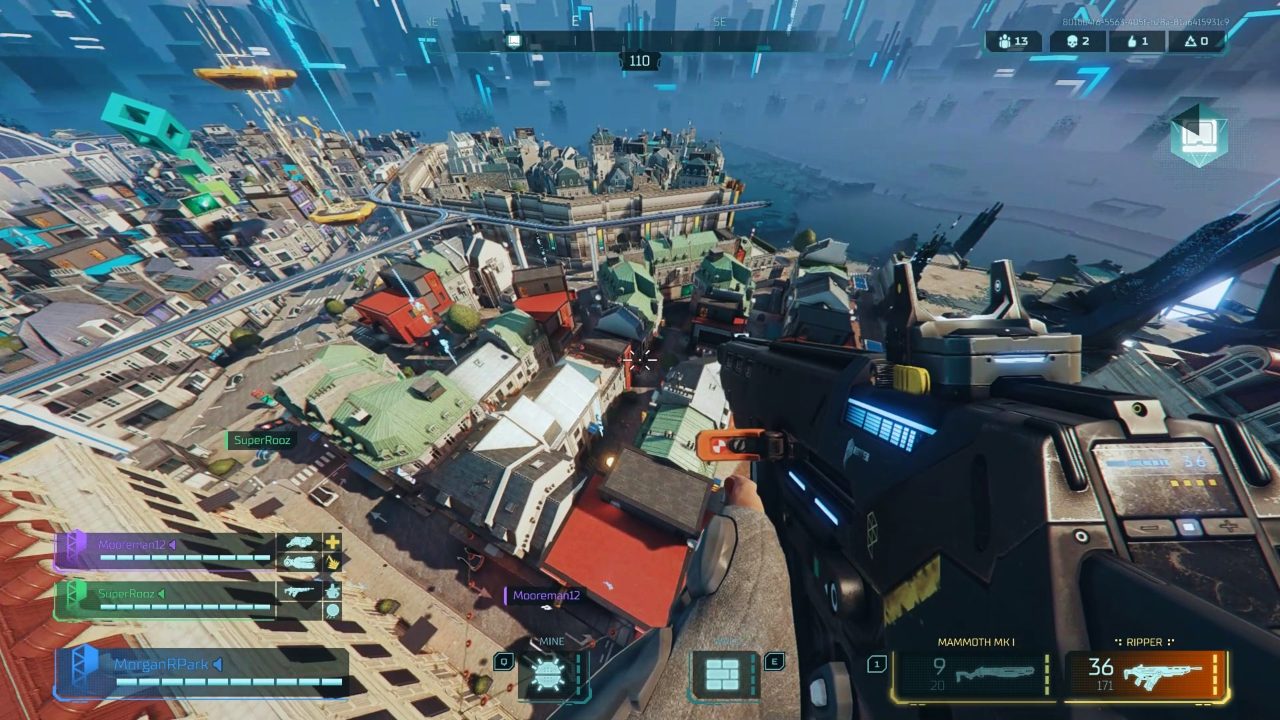 That premise, one set in the near future where spends most of its time in a virtual online universe known as the titular Hyper Scape (and fight in an gladiatorial arena called Crown Rush), certainly allows Prisma Dimensions (a new team within Ubisoft Montreal) to ignore conventional laws of the genre – including the laws of physics. Its battle royale combatants can parkour freely across the cobbled rooftops of the game's single map, Neo Arcadia, a gorgeous sprawl of renaissance urbanism reimagined with a cyberpunk twist, using jump pads and other gravity-defying tools to stay airborne, or maintain a height advantage at the very least.
Hacks, meanwhile, are unique perks that can be picked up as part of Hyper Scape's sci-fi loot pool, endowing players with abilities such as invisibility, improved armour, or a lethal ground pound attack. Even Hyper Scape's weapons are far from average, each one capable of being upgraded up to five times by equipping them repeatedly across the map, in a clever gamification of the usual frustrations players have with finding loot duplicates.
"We started with the idea of games as a spectacle," Jennings tells me. "So we were looking at how viewers and streamers can be closer, and how viewing can be more of an active experience. That was one of the pillars we started with, and from there began to pitch ideas about how we can make a fresh take on battle royale; something that felt unique and had its own flavour. Our smaller team built prototypes, which is where the hacks came from, and then it started to formulate together and take shape into what Hyper Scape is today."

Hyper Scape System Requirements: Minimum
Operating System: Win XP 32
Graphics: AMD Intel HD Graphics 3000 Desktop or NVIDIA GeForce 6800 GT
Processor: Intel Core 2 Duo E8400 3.0GHz / AMD Phenom 8750 Triple-Core
DirectX 9 Compatible Graphics Card
RAM: 4 GB RAM
Storage: 7.6 GB Hard drive space

Hyper Scape System Requirements: Recommended
Operating System: Win 7 32
Graphics: AMD Radeon R5 240 v1 or NVIDIA GeForce GT 730
Processor: Intel Core i3-4150 3.5GHz / AMD FX-6100
DirectX 9 Compatible Graphics Card
RAM: 4 GB RAM
Storage: 7.6 GB Hard drive space

If you want to try it soon, a closed beta will be released by Ubisoft on 7th July 2020 from where you can participate in it. You can also get this information from the dev website.